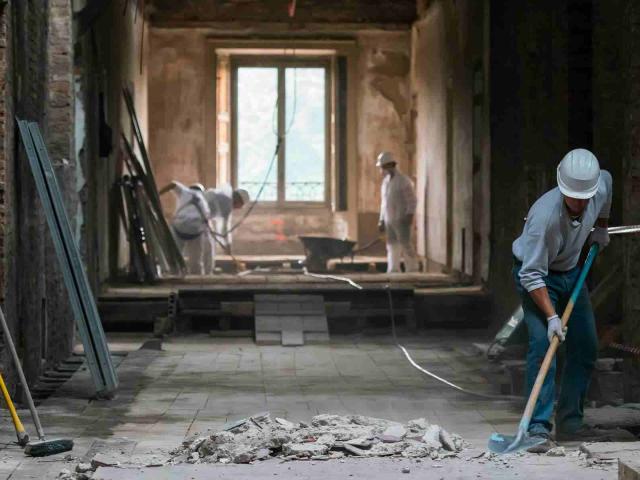 According to the latest numbers from the NATIONAL FIRE PROTECTION ASSOCIATION, a structure fire is reported every 65 seconds.  When the alarm sounds, emergency responders and fire departments answer the call for help with quick and decisive action. When the smoke clears, our fire restoration services team stands ready to help with the same rapid response 24hours a day, 365 days a year.
The first 24 to 48 hours after fire damage are known as the "golden hours" of recovery. An effective emergency response that quickly stabilizes the facility ensures the recovery of as much property as possible. The acidic soot and smoke damage that is often produced when fires are extinguished accelerates the deterioration and corrosion of building components and vital assets.  To compound the problem, fires are most frequently extinguished with dry chemicals or water.  Plus, the toxic smoke odor left behind must be neutralized and deodorized.
Let USA BUILDING Restoration & Inspections work with you to give you peace of mind after what may be a tragic fire event.
Licensing or registration protects the homeowner by helping ensure that contractors meet the minimum insurance requirements. Using an unlicensed contractor can cost you in a number of ways. All contractors you hire should be insured.
Our Emergency Service makes us available to help you 24 hours a day, 7 days a week. Your comfort is always our top priority. The service is available for residential, commercial and industrial calls. Available 24/7, 365 days a year!
100% satisfaction guaranteed
We stand behind our products and services 100%! We are happy to answer your questions, provide helpful product consultation and knowledgeable advice. If for any reason you are less than 100% satisfied with the service and products we provide, please contact us and we will make things right.
We know how important Inspection Reports are in any situation. As a diligent owner willing to ensure the property is being maintained to the highest standards or as a buyer protecting the value of an investment. We will make sure your report is delivered within 24 hours.